HMDB Compound Reference Library
Through an agreement with the HMDB group at the University of Alberta, Chenomx now offers compound libraries based on data within the HMDB library. Download this library and get access to about 600 metabolite signatures based on data collected and created by the HMDB group.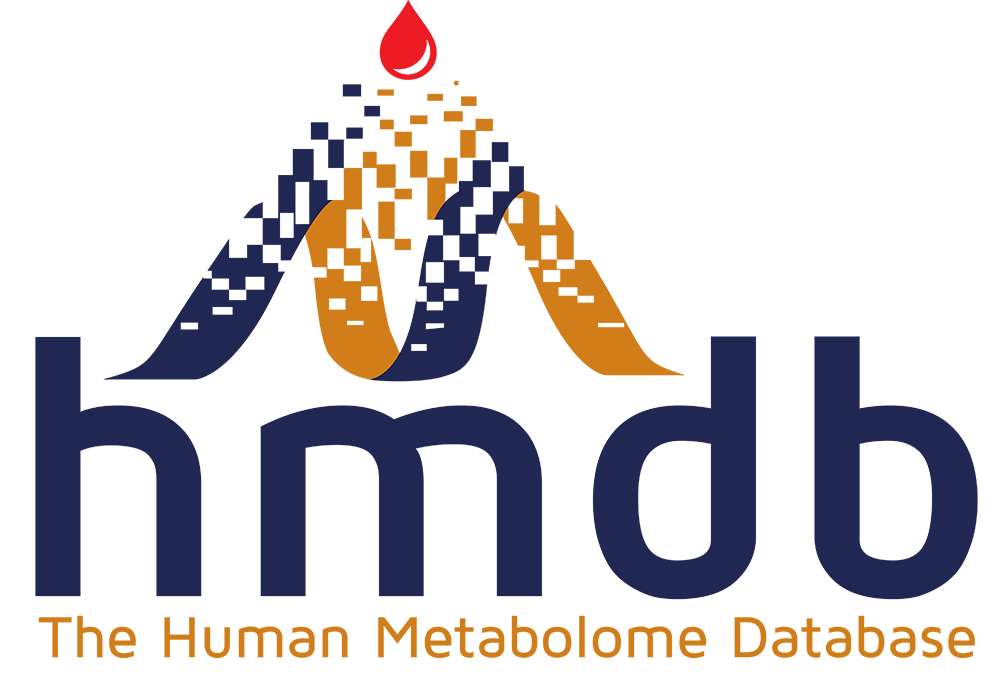 Before you Download
Please have a look at the access requirements of the HMDB web site. Even though you are not directly accessing their site by using our library we ask that you follow their request for citing the group (http://www.hmdb.ca/citing)  in any publications that use the library in any substantial way. The HMDB spectral entries were not collected with the Chenomx library needs in mind. With that in mind:
HMDB is only recommended for identification and relative quantification.
We also ask that you accept that Chenomx has not been part of the creation of that HMDB data and as such we cannot guarantee that all the data is accurate and validated. However, we feel that there is value in being able to access the HMDB from within the Chenomx software and take advantage of our searching, identification and concentration measurement functionality.The results after using the HMDB entries can be tested separately for accuracy using other methods. For example, a user can create a full Chenomx standard signature if a particular metabolite is very important to a research study.
HMDB Compound Packs (Release 2)
You will need Chenomx NMR Suite 8.1 or later to qualify for access to this library (no additional charges are required).
HMDB Release 2 - Release Notes
These compound packs can be installed quite easily by using the Library -> Add Compounds... wizard and choosing the Import Compounds from External Sources radio button.
Note: If you would prefer that these compounds are not automatically selected when you open a file in Profiler you will need to launch Preferences and click on the Advanced... button. Then paste the following into the text box provided:
profiler.cspanel.autoselect.custom=false
HMDB Reference Cards
If you would like to have Reference Card information available when using the HMDB Compound Packs you will need to download the following zip file:
Once it is downloaded, extract the contents of the zip file to your Chenomx Reference Card location. This is typically located in your user profile as a folder called "Chenomx Reference Cards". If you are unsure of where this is on your system, open Library Manager's Preferences and you will see the location. You may need to create this folder if you have never used it before. The software should then be restarted to use the new reference cards.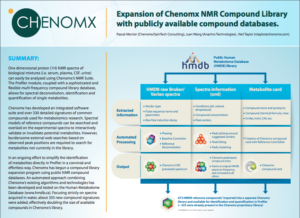 (+)-(S)-Carvone
(R)-3-Hydroxyisobutyric
1-Butanol
1-Methyladenosine
1-Methylhistidine
1,1-Dimethylbiguanide
1,3-Dimethyluracil
1,4-Butanediammonium
12-Hydroxydodecanoic
2-Aminobenzoic
2-Ethylacrylic
2-Heptanone
2-Hydroxyadipic
2-Hydroxydecanedioic
2-Ketobutyric
2-Methylbutyroylcarnitine
2-Octenoic
2-Phenylbutyric
2,2-Dimethylsuccinic
2,3-Dihydroxyvaleric
2,4-Diaminobutyric
2'-Deoxyguanosine
3-Aminosalicylic
3-Furoic
3-Hydroxyanthranilic
3-Hydroxydodecanoic
3-Hydroxymandelic
3-Hydroxysuberic
3-Methoxy-4-Hydroxyphenylglycol
3-Methoxytyrosine
3-Methyladipic
3-Methylindole
3-Nitrotyrosine
3-Pyridylacetic
3,4-Dihydroxymandelic
3,7-Dimethyluric
4-Ethylbenzoic
4-Hydroxy-3-methylbenzoic
4-Hydroxyproline
4,5-Dihydroorotic
5-Dodecenoic
5-Hydroxylysine
5-Methoxydimethyltryptamine
5-Methoxytryptophan
5-Thymidylic
6-Hydroxynicotinic
7-Methylguanosine
Acetaminophen
Acetoin
Acetylcysteine
Acrylamide
Adenylsuccinic
(R)-2-Benzylsuccinate
(S)-3-Hydroxybutyric
1-Hexadecanol
1-Methylguanine
1-Methylnicotinamide
1,11-Undecanedicarboxylic
1,3-Dimethyluric
1,5-Anhydrosorbitol
16b-Hydroxyestradiol
2-Aminoisobutyric
2-Furoic
2-Hydroxy-2-methylbutyric
2-Hydroxybutyric
2-Hydroxyphenethylamine
2-Ketohexanoic
2-Methylhippuric
2-Oxohexane
2-Phenylglycine
2,3-Butanediol
2,3-Diphosphoglyceric
2,4-Dichlorophenol
3-(3-Hydroxyphenyl)-3-hydroxypropanoic
3-Cresotinic
3-Hexanone
3-Hydroxybutyric
3-Hydroxyglutaric
3-Hydroxymethylglutaric
3-Indolepropionic
3-Methoxybenzenepropanoic
3-Methyl-2-oxovaleric
3-Methylhistamine
3-Methylphenylacetic
3-Oxoadipic
3,4-Dihydroxybenzeneacetic
3,4-Dihydroxyphenylglycol
4-(Methylnitrosamino)-1-(3-pyridyl)-1-butanone
4-Guanidinobutanoic
4-Hydroxybenzoic
4-Methylcatechol
5-Aminolevulinic
5-Hydroxy-L-tryptophan
5-Hydroxymethyl-4-methyluracil
5-Methoxysalicylic
5-Methylcytidine
5'-Methylthioadenosine
6-Phosphogluconic
7-Methylxanthine
Acetic
Acetone
Acetylglycine
Adenine
Adipic
(R)-3-Hydroxybutyric
(S)-3-Hydroxyisobutyric
1-Methyladenine
1-Methylguanosine
1-Methyluric
1,3-Diaminopropane
1,3,7-Trimethyluric
1,9-Dimethyluric
2-Amino-3-phosphonopropionic
2-Ethyl-2-Hydroxybutyric
2-Furoylglycine
2-Hydroxy-3-methylbutyric
2-Hydroxycaproic
2-Isopropylmalic
2-Methyl-3-ketovaleric
2-Octenedioic
2-Pentendioate
2-Piperidinone
2,3-Diaminopropionic
2,4-Diamino-6-hydroxypyrimidine
2,5-Furandicarboxylic
3-Aminoisobutanoic
3-Deoxyarabinohexonic
3-Hexenedioic
3-Hydroxydodecanedioic
3-Hydroxyisovaleric
3-Hydroxyphenylacetic
3-Mercaptopyruvic
3-Methoxytyramine
3-Methyladenine
3-Methylhistidine
3-Methylxanthine
3-Phosphoglyceric
3,4-Dihydroxyhydrocinnamic
3,4,5-Trimethoxycinnamic
4-Aminohippuric
4-Heptanone
4-Hydroxyphenylpyruvic
4-Pyridoxic
5-Aminopentanoic
5-Hydroxyindoleacetic
5-Hydroxymethyluracil
5-Methoxytryptamine
5-Phenylvaleric
6-Dimethylaminopurine
7-Methyladenine
A-Ketoglutaric
Acetoacetic
Acetylcholine
Acetylphosphate
Adenosine
Agmatine
Agmatinium
Allantoin
Alpha-Aspartyl-lysine
Alpha-Hydroxyisobutyric
Aminoadipic
Amlodipine
Aspartame
Benzaldehyde
Beta-Leucine
Biocytin
Butanal
Caffeic
Capric
Capryloylglycine
Chenodeoxycholic
Choline
cis-Aconitic
Citramalic
Coenzyme
Creatine
Cyclohexanone
Cysteine-S-sulfate
D-Alanine
D-Arginine
D-Fructose
D-Glucuronic
D-Lactic
D-Mannose
D-Serine
D-threo-Isocitric
D-Xylulose
Decanoylcarnitine
Deoxyadenosine
Deoxyguanosine
Desaminotyrosine
Diethanolamine
Dihydrouracil
Dimethylallylpyrophosphate
Dimethylmalonic
DL-2-Aminooctanoic
DL-O-Phosphoserine
dUMP
Erythritol
Ethanol
Ethyl
FAD
FAPy-adenine
Formic
Furosemide
Galactitol
Gallic
Gamma-Caprolactone
All-trans-retinoic
Allocystathionine
Alpha-D-Glucose
Alpha-ketoisovaleric
Aminocaproic
Anserine
Aspirin
Benzoic
Beta-N-Acetylglucosamine
Biotin
Butyric
Canavanine
Caproic
Carnosine
Chlorogenic
Cinnamic
Citicoline
Citric
Corticosterone
Creatinine
Cysteamine
Cysteineglutathione
D-Alpha-aminobutyric
D-Aspartic
D-Galactose
D-Glucurono-6,3-lactone
D-Lysine
D-Pantethine
D-Tagatose
D-Xylitol
dCMP
Dehydroascorbic
Deoxycholic
Deoxyinosine
dGTP
Diethylthiophosphate
Dihydroxyacetone
Dimethylamine
Dimethylsulfide
DL-Dopa
Dopamine
Epicatechin
Erythrose
Ethanolamine
Ethylmalonic
FADH
Flavin
Fructose
Gabapentin
Galactonic
Gamma-Aminobutyric
Gamma-Glutamylcysteine
Allantoic
Allose
Alpha-Hydroxyhippuric
Alpha-Lactose
Aminopterin
Argininosuccinic
Azelaic
Beta-Alanine
Betaine
Brompheniramine
Cadaverine
Canthaxanthin
Caprylic
Cellobiose
Chlorpheniramine
cis-4-Octenedioic
Citraconic
Citrulline
Cotinine
Cyclic
Cysteaminium
Cytidine
D-Arabitol
D-Cysteine
D-Glucose
D-Glutamine
D-Maltose
D-Ribose
D-Threitol
D-Xylose
Deacetyldiltiazem
Delta-Hexanolactone
Deoxycytidine
Deoxyuridine
Diaminopimelic
Dihydrothymine
Dimethyl
Dimethylglycine
Diphenhydramine
DL-Homocystine
Doxylamine
Epinephrine
Ethamp
Ethenodeoxyadenosine
Ethylmethylacetic
Famotidine
Folic
Fumaric
Galactaric
Galacturonic
Gamma-Butyrolactone
Gentisic
Geraniol
Gluconolactone
Glutaconic
Glutathione
Glycerol
Glycocholic
Glycyl-glycine
Glyoxylic
Guanidoacetic
Gulonic
Hexadecanedioic
Histamine
Homocarnosine
Homovanillic
Hydrocinnamic
Hydroxyisocaproic
Hydroxyphenylacetylglycine
Hypotaurine
Imidazoleacetic
Indolelactic
Inosinic
Isobutyryl-L-carnitine
Isopropyl
Isovalerylglutamic
Ketoleucine
L-3-Phenyllactic
L-Alloisoleucine
L-Arabinose
L-Asparagine
L-Cystathionine
L-Dihydroorotic
L-Glutamic
L-Histidinol
L-Homoserine
L-Kynurenine
L-Lysine
L-Norleucine
L-Pipecolic
L-Sorbose
L-Tyrosine
Leucinic
Linoleic
m-Coumaric
Malic
Maltotetraose
Mannitol
Melibiose
Methionine
Methylamine
Methylglutaric
Methylmalonic
Mevalonolactone
Glucaric
Glucosamine
Glutaric
Glyceraldehyde
Glycerophosphocholine
Glycogen
Glycyl-L-leucine
Guaiacol
Guanine
Heparin
Hexanoylcarnitine
Histamium
Homocysteine
Homoveratric
Hydroquinone
Hydroxykynurenine
Hydroxyphenyllactic
Hypoxanthine
Indole
Indoxyl
Iodotyrosine
Isocitric
Isovaleric
Isovalerylglycine
Kynurenic
L-Acetylcarnitine
L-Allothreonine
L-Arabitol
L-Aspartic
L-Cysteine
L-Dopa
L-Glutamine
L-Homocysteic
L-Iditol
L-Lactic
L-Malic
L-Octanoylcarnitine
L-Proline
L-Threonine
L-Valine
Levoglucosan
m-Aminobenzoic
m-Cresol
Malonic
Maltotriose
Mannose
Mesaconic
Methyl
Methylammonium
Methylguanidine
Methylsuccinic
Monoethyl
Gluconic
Glucose
Glutarylglycine
Glyceric
Glycine
Glycolic
Glycylproline
Guanidinosuccinic
Guanosine
Heptanoic
Hippuric
Homo-L-arginine
Homogentisic
Hydrochlorothiazide
Hydroxycobalamin
Hydroxyoctanoic
Hydroxypropionic
Imidazole
Indoleacetic
Inosine
Iso-Valeraldehyde
Isoferulic
Isovalerylalanine
Itaconic
L-2-Hydroxyglutaric
L-Alanine
L-Alpha-aminobutyric
L-Arginine
L-Aspartyl-L-phenylalanine
L-Cystine
L-Fucose
L-Histidine
L-Homocystine
L-Isoleucine
L-Leucine
L-Methionine
L-Phenylalanine
L-Serine
L-Tryptophan
L(-)-Nicotine
Levulinic
m-Chlorobenzoic
Maleic
Maltitol
Mandelic
Melatonin
Methanol
Methylacetoacetic
Methylcysteine
Methylimidazoleacetic
Mevalonic
Monomethyl
Muramic
N-Acetyl-L-alanine
N-Acetyl-L-phenylalanine
N-Acetylglutamic
N-Acetylneuraminic
N-Acetylserine
N-Butyrylglycine
N-Methyl-D-aspartic
N,N-Dimethylaniline
N6-Acetyl-L-lysine
Neopterin
Nicotinamide
Norepinephrine
o-Cresol
o-Tyrosine
Orotic
Oxalacetic
p-Aminobenzoic
PA(16:0/16:0)
Pelargonic
Phenol
Phenylephrine
Phenylpropanolamine
Phosphoenolpyruvic
Phosphoserine
Pimelic
Propionic
Propylene
Pseudouridine
Putrescine
Pyridoxine
Pyroglutamic
Pyruvic
Quinolinic
Ranitidine
Riboflavin
Rutin
Salicyluric
Sedoheptulose
Senecioic
Sorbitol
Stachyose
Succinic
Sumiki's
Taurine
Tetrahydrofuran
Threonic
Thymol
trans-2-Octenoic
trans-Ferulic
Tridecanoic
Tryptamine
Myoinositol
N-Acetyl-L-aspartic
N-Acetyl-L-tyrosine
N-Acetyllactosamine
N-Acetylputrescine
N-Acryloylglycine
N-Formyl-L-methionine
N-Methylhydantoin
N,N-Dimethylformamide
NAD
Nervonic
Nicotinic
Normetanephrine
O-Phosphoethanolamine
Octanal
Orotidine
Oxoadipic
p-Cresol
Pantothenic
Perillic
Phenylacetic
Phenylglyoxylic
Phenylpropiolic
Phosphonoacetate
Phthalic
Pipecolic
Propranolol
Protocatechuic
Pteroyltriglutamic
Pyridoxal
Pyrimidine
Pyrrolidonecarboxylic
Quinaldic
Quinone
Rhamnose
Ribonolactone
Saccharopine
Sarcosine
Selenocystine
Serotonin
Spermidine
Suberic
Succinylacetone
Symmetric
Taurodeoxycholic
Theophylline
Thymidine
Tiglic
trans-Aconitic
Traumatic
Trigonelline
Tryptaminium
Myricetin
N-Acetyl-L-methionine
N-Acetylgalactosamine
N-Acetylmannosamine
N-Acetylputrescinium
N-Alpha-acetyllysine
N-Methyl-a-aminoisobutyric
N-Methylnicotinamide
N1-Acetylspermine
NADP
Niacinamide
Nicotinuric
Norspermidine
O-Phosphonatoethanaminium
Ornithine
Ortho-Hydroxyphenylacetic
Oxoglutaric
p-Hydroxyphenylacetic
Paraxanthine
Perillyl
Phenylacetylglycine
Phenyllactic
Phosphocreatine
Phosphorylcholine
Picolinic
Propanal
Propyl
Pseudoephedrine
Purine
Pyridoxamine
Pyrocatechol
Pyruvatoxime
Quinic
Raffinose
Ribitol
Ribothymidine
Salicylic
Sebacic
Selenomethionine
Shikimic
Spermine
Suberylglycine
Sucrose
Tartaric
Terephthalic
Thiamine
Thymine
Tiglylglycine
trans-Cinnamic
Trehalose
Trimethylamine
Tyramine
Undecanedioic
Ureidopropionic
Urocanic
Valproic
Vanylglycol
Xanthine
Undecanoic
Ureidosuccinic
Valeric
Vanillic
Verapamil
Xanthosine
Uracil
Uridine
Valerylglycine
Vanillylmandelic
Vinylacetylglycine
Xanthurenic